The best 13-inch laptops perform well enough to match that of many 15-inch laptops . Those who choose to forgo a larger screen typically do so in favor of increased portability over larger models.
There are many students and professionals who appreciate light and compact laptops that you can always carry with you during your daily commute.
Sure, 15-inch laptops offer a bigger screen and more space for hardware, but the best 13-inch laptops are ideal for use anywhere, and most importantly they fit in any backpack or bag.
Despite the small size, the best 13-inch laptops can guarantee excellent performance. Many of the models in our ranking are perfectly capable of easily managing photo editing software, video editing tools and are also quite well suited for gaming.
There are many 13-inch notebooks to choose from based on your needs, but no matter what you want to use them for, we are confident that you will be able to find the model that suits you in our ranking.
The best 13-inch Laptops to Buy
1. Apple MacBook Air (M1, 2020)
Apple ended 2020 with a bang, launching the much talked about M1 chip that quickly managed to become a real game changer for the company. The company's first laptop to receive it was the thinnest and lightest, immediately entering the list of the most interesting Apple products in recent years.
Thanks to the new chip, this MacBook Air is the best ever. It offers exceptional performance coupled with excellent battery life and a (fairly) affordable price. This is not the cheapest choice for students, but for those on a budget this is probably the best laptop ever.
2. HP Elite Dragonfly G2

The second generation of HP Elite Dragonfly notebooks enters with flying colors in the ranking of the best 13-inch notebooks. HP's business notebooks are back with their smart design, great battery life and the 2-in-1 format that has always distinguished them. The new models are more powerful thanks to the new 11th generation Intel processors with integrated Intel Iris XE graphics and 4K display. There are so many positives and it's really hard to find fault with these business laptops, apart from the high price tag and the lack of a few more USB-C ports which certainly wouldn't hurt. In any case, if you can afford it, the HP Elite Dragonfly is one of the best 13 "laptops available on the market in 2021.
3. Microsoft Surface Laptop 4
Although, Apple's new MackBook Air one step ahead but still Microsoft Surface Laptop 4 impressive.. As before on Surface devices, the build quality and design are absolutely top notch and the gorgeous PixelSense touchscreen differentiates the Surface 4 from the competition (Apple doesn't have a MacBook with a touch screen).
The new Surface has a great keyboard and boasts some really great specs, as well as being built to deliver the best Windows 10 experience possible. The autonomy is also really good, it lasted over 13 hours during our stress test, and this time the price is extraordinarily competitive.
4. HP Specter x360 (2021)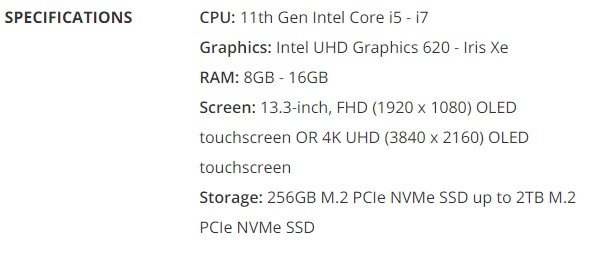 The HP Specter x360 (2021) is the newest flagship of the HP notebook line and continues the tradition of combining elegance and premium design with the latest specifications found on 2-in-1 notebooks, delivering as much substance as style.
It is a Windows laptop, supplied with a recent 11th generation Intel CPU and strong enough autonomy to face a long day of work. Among the flaws we find a considerable price, which compensates for the contents.
Also, in the tablet format it is far too bulky (for a tablet), not to mention that it tends to be far too loud. In light of this it still remains an extraordinary laptop with excellent performance.
5. Google Pixelbook Go

If you like the idea of ​​using Google's Chromebook but can't buy one, you might want to consider the new Google Pixelbook Go instead. This little laptop has just been baked by Google and is an alternative to the manufacturer's expensive Pixelbook.
It boasts many of its high-quality features, at an affordable price, such as incredible battery life and a very quiet keyboard. If your computer use is limited to using e-mail, creating documents and streaming video after work, this is basically the perfect model for your needs.
6. Apple MacBook Pro 13 (M1, 2020)
The 13-inch MacBook Pro (M1, 2020) doesn't allow for great design innovations, but the introduction of the new Apple M1 ARM CPU brings cutting-edge performance and unmatched battery life.
Thanks to the revolutionary chip, the new 13-inch MacBook Pro allows you to easily manage 4K and even 8K video editing tasks. If you are looking for a powerful laptop with limited weight and dimensions, the new 13-inch MacBook Pro is one of the best models to buy today.
7. Dell XPS 13 (Late 2020)
We are starting to believe that it is next to impossible for the Dell XPS line to do anything wrong. All the updates that have taken place over the years have managed to enter our ranking of the best notebooks and continue to improve with each generation.
The latest version of Dell XPS 13 (late 2020) is not only a great PC, but it offers great performance, has a stunning display and has great battery life.Overall there are very few models that can boast such an excellent career .
Dell XPS 13 (late 2020) is expensive, just like its predecessors were, the purchase price is proportional to its features and functionality. It certainly is among the best 13-inch laptops and is worth every penny it costs.
8. Microsoft Surface Book 2 (13.5 inches)
The 13-inch version isn't the most powerful Surface Book 2, but it's still one of the best 13-inch notebooks on the market. Whether you're a professional, creative or even a student, the Surface Book 2 will handle your daily workload effortlessly and in style.
Furthermore, the fulcrum hinge is much improved in this latest version and the Surface integrates a robust quad-core processor, two details that make the difference. And unlike other 2-in-1 notebooks, the keyboard is detachable as well as thinner, making it much more manageable in tablet mode.
9. Lenovo Thinkpad L13 Yoga

Yoga is Lenovo's name for its 2-in-1 ultraportables, and it's not hard to see why. In addition to the flexibility guaranteed by the light weight and small size enough to offer excellent portability in any context, it can be configured directly from the manufacturer's website according to your needs.
You can choose some features that are important to you and upgrade your specific model according to a very specific logic, in order to cover a series of different personal needs for power, battery longevity and storage space.
In terms of connectivity, practically nothing is missing, you can get to your home or office and connect it directly to a mouse, keyboard and a 27 "monitor so as not to regret your old and massive desktop.
Unplug it and you can continue working from the bed, sofa or terrace. Ultimately, the Thinkpad L13 Yoga is a relatively inexpensive model and is a great choice if you are always on the go and cannot afford to carry a full size notebook, as it is the size of an A4 sheet and with a thickness limited to 1.75 cm. , can fit into any bag or backpack.
The only shortcomings, if we want to call them that, are the maximum RAM capacity limited to 8 GB and the integrated video card, but that was to be expected, given the compact size.
10. Huawei MateBook 13

It's not often that you find a 13-inch notebook that has all the hardware in the right place and doesn't compromise. Huawei MateBook 13 is one of those very few devices that succeeds.
With the latest Intel Whiskey Lake processors and Nvidia MX150 graphics packed into a compact body, the Huawei MateBook 13 is a powerful machine that can easily fit into most backpacks or bags. Furthermore, it will appeal to users who cannot afford the luxury of spending big bucks, as it is also cheap. What more could you want?
11. ASUS ZenBook 13 UX325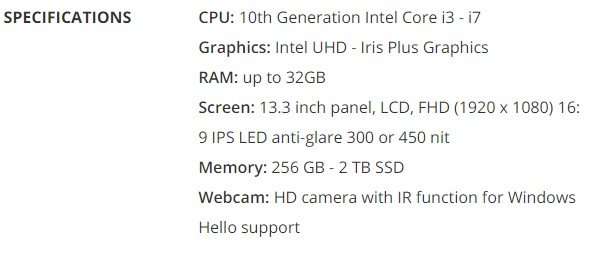 If you need an affordable work laptop, ASUS ZenBook 13 UX325 may be the one. Its slim and light format and exceptional battery life place it in the same category as the best Ultrabooks around. The military standard MIL-STD-810G with which it is made allows it to take it one step further, making it a robust candidate for any need in the field. The affordable price does not miss some unpleasant surprises, the worst is that in the version we tested it was a bit under powered in terms of power. However, it remains a very good laptop for everyday work.
Final Words:
So, we have shared the best 13 inch laptops after doing some quality research. Complete specs also shared along with other necessary info. You can easily choose any of your favorite brand 13 inch laptop based on the given information. if you want us to add more then, please we welcome your suggestions in comments.