It's time you get your hands on the best monitor, in case you have always been wandering around searching for the excellent Lenovo monitors. Now, whenever one is looking for the best monitors in the tech arcade, Lenovo always come in mind. The Lenovo screens make sure you are getting the best value for the price you pay.
Although, there are so many monitors being launched by different brands every now and then. Still, there need to be wiser choices to make when you are going for the top-notch quality. The right monitors have to have higher screen refresh-rate, excellent quality panel, brilliant contrast ratio and couple other factors to be on the best list.
Finding the best monitors for 2021 is a job and we are going to make this job easy for you today. Our top picks today, which we have narrowed down for our exclusive readers could help you greatly.
Lenovo ThinkVision P44W-10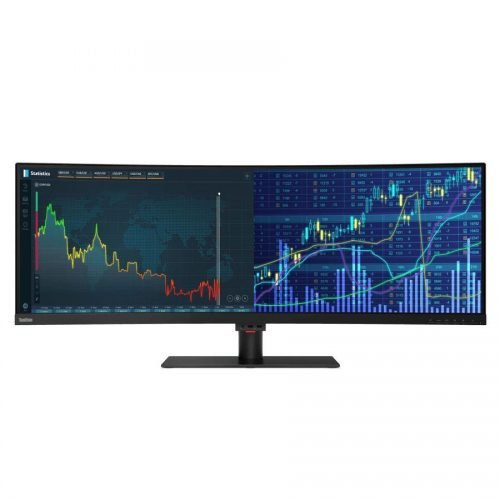 32:10 | 3840 x 1200 | 450 cd/m² | 3000:1 | 6ms | HDMI, USB-C, Display Port
If you haven't still heard about the excellence of curved monitors, the Lenovo ThinkVision P44W is a good option to take a start. Well, not just good but probably the best! The Lenovo ThinkVision P44W makes the visuals seemingly impressive with its curve-able surface and IPS technology. Not only that, but this monitor comes with sufficient ports and a maximum brightness of 450. Depending on this brightness, you can watch high graphical videos and games even under bright lights.
The monitor delivers the full HD Resolution with 1200 pixels which is a good sign that you can play heavy-voltage games on this monitor. The aspect ratio you get with the screen is around 3000:1 and 32:10 contrast ratio. The screen size is 48.4 inches which clearly demonstrates your view is bigger and better.
Lenovo Legion Y44w-10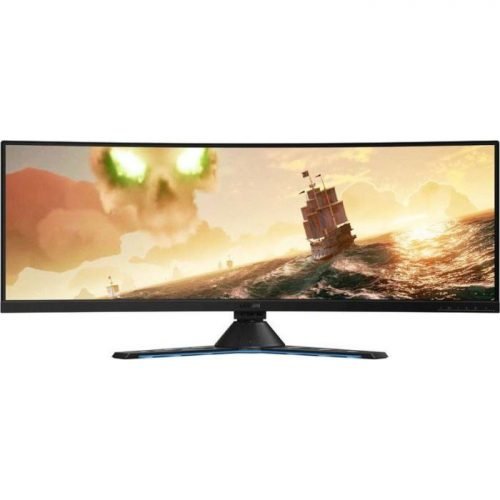 3840 x 1200 Resolution | 32:10 | 380 cd/m² | 3000:1 | 4ms | USB-C | HDMI | DP
A wider and wilder monitor is always good for the eyes, unless you are thinking of a small desk setup The Lenovo Legion Y44w comes packed with 1200-pixel Resolution and 430 nits of maximum brightness. It is indeed a gaming monitor that enables viewing games with 1800 W curvature for diverse gaming angles and viewpoints.
The monitor also features AMD Free Sync technology with its 2840 x1200 Resolution that makes sure you get absolutely no screen tearing or input lag. Besides, the monitor is placed on the VESA mount for enhanced height and comfortable tilting angles. There is also a blue light certification included in the monitor that makes the screen light less straining for the eyes.
Lenovo G34w-10 34 WQHD Ultrawide Curved Gaming Monitor
3440 x 1440 Resolution | 21:9 | 350 cd/m² | 3000:1 | 4ms | HDMI | DisplayPort
Although, Lenovo G34w-10  is a perfect gaming monitor but in case your work domain is related to intense technical usage, it can serve as the best screen. This is a curved Lenovo monitor that features WQHD panel for tilting screen the way you want. The refresh rate you get through this monitor is 144 Hz, which is ideal for high-powered games and multimedia applications. The port selection is also good with HDMI, audio, Kensington lock, and display port.
If you have always wanted your display to be ultra-wide, the G34w totally provides you with massively wide panel. The moving-picture response time of this display is just 1ms, which is brilliant considering average monitors and laptops display. The contrast ratio to be observed with the display is around 3000:1, keeping the user engaged for comfortable than ever viewing angles.
Lenovo ThinkVision P27u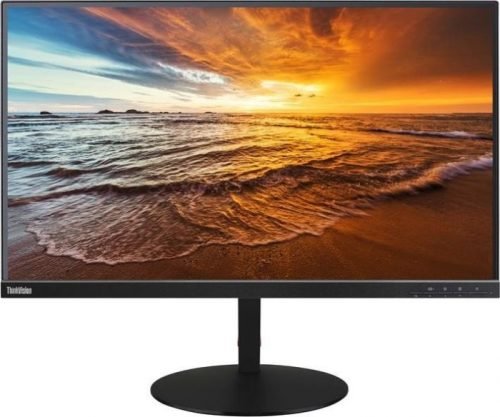 3840 x 2160 |16:9 | 350 cd/m² | 1000:1 | 4 ms | HDMI | DP | USB-C
Everybody needs a 4k Ultra-HD display to fantasize their best view on the screen in front of them. The Lenovo ThinkVision P27u is one of those monitors that deliberately fulfills the fantasy of viewing incredible visuals. This 27-inch IPS display makes sure to deliver the best quality graphics with its 3840 x 2160 Resolution. From showcasing exquisite details to displaying even minor detailing on the screen , this monitor is quite good for high-level illustrations.
This Lenovo monitor also comes with additional ports including USB C, HDMI, USB 3.0 and display ports for extra connectivity. You also get an ergonomic stand that allows the panel to completely rotate and makes it viewable from nearly any angle.
Bottom Line – Great Lenovo Monitor Deals 2021
Believe it or not! The best monitors can take you from your usual sight to next-level visionary moments. The right monitors not only make the screen graphics visually appealing and up to quality. But they also ensure you get everything according to your comfort. If you need to get best monitor deals in UK, Laptop Outlet serves as the top tech online destination. The above-mentioned monitors are available with exclusive discounts and finance offers at this web store.