It is a character that has gained immense popularity. After updating to Apex Legends Season 10 for Seer, the newest hunter character (Recon) in the game. Many people agree that it's too cheating and the team has to Nerf it down. Today, let's look at the guidelines for playing Seer. How to play to give the other party a headache that they almost want to escape from the game. Let them know and know how to survive.
Seer is a Recon character with the ability to detect enemies with a Micro-Drone or a mini drone to spy on them. Each skill has abilities and guidelines for use as follows.
Passive: Heartseeker
Abilities: Right click or raise the gun to aim. Will be able to detect enemy heartbeat within 75 meters.
Technique of use: This is Seer's worst skill because it makes it easy to detect enemies in the surrounding area. But it may take some communication skills. While aiming, a colored circle will appear around the aiming target. which it will sharpen up into another color to indicate the direction of the enemy and when the enemy is in the direction The crosshair will be fully colored. to confirm that the enemy is in that direction The heart rate will be faster. When an enemy's health is reduced and gets louder when near enemies.
With a range of up to 75 meters, entering a large urban area farm or High Tier Loot will be able to use Seer's ability to detect enemies to check safety first. And if we are ready to fight, we can choose to be the one who opened the attack first. Or if you can escape, you can avoid collisions as well. The problem with this skill is when using it. If the opponent who is detected ear is good enough, the sound of this skill will also be heard. From the hunter, we will be hunted by ourselves if we are not careful to use it.
Read this Too: 8 Hell Missions GTA Vice City Makes All Gamers Hate
In addition, the Heartseeker pattern will show a circle symbol in the middle of the screen. which may cause many people to aim and shoot Or it goes against the style of some gun skins, such as Volt's, but fortunately, we can enable/disable this skill with the H key, similar to Gibraltar's shield toggle. This guild to the maximum benefit is Use it before entering a large venue or building, and the narrower the playing area, the better. The more effective this skill is at identifying enemies. It can be said that at the end of the game, whichever team has Seer, that team will have a fair advantage.
Tactical (Q) : Focus of Attention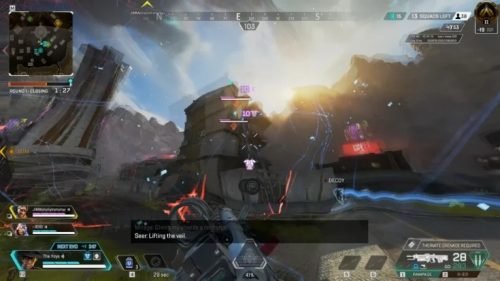 Abilities: Launches a Micro-Drone to detect enemies in a straight line in the front direction. to thwart enemies and reveal enemy positions as well as revealing health and armor lamps along with doing some minor damage.
Technique of use: Seer's most stingy skill is a skill that shoots out in a straight line. But don't think it's easy to dodge. The mess of this skill is that unless it reveals our position. Including health bar and enemies if hit. It will hinder all our actions. Prevents potions, replenishes armor, and prevents plating of allies. From the experiment, if shot at a flying Valkyrie, she was able to fall. So this skill is most useful if you're chasing an enemy in a straight line. Or shoot a collision and the enemy is in front.
This ability can be comboed with passive Heartseeker to pinpoint locations as clearly as possible and release Focus of Attention to reveal enemy positions. What's worse is the damage that is up to 10 units. If a near-death enemy can manage to fall with this skill as well. And blocking the use of recovery and friend revival items is now a controversial ability among fans of the game, whether it's too cheating or not. In the end, even if it gets nerfed
Techniques for using Focus of Attention for maximum efficiency Is a combo with Heartseeker and try to squeeze the enemy into tight spaces. Because the radius of the skill is a straight cylinder. or if in a tall building and live on each floor Using this skill to aim vertically high or low. will make it difficult to find enemies And seeing the enemy's health and armor for up to 8 seconds should make the most of this period. whether to close the enemy team's job or retreat
Ultimate (Z) : Exhibit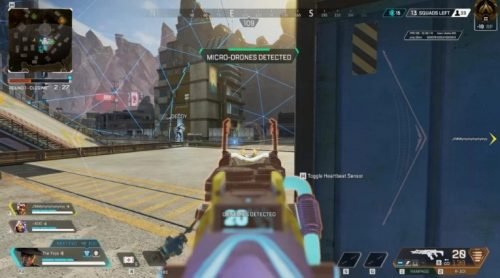 Abilities: Create a Micro-Drone's power launcher, create a large territory. by revealing the position of the enemy running inside the territory
Techniques of use: The function of this skill is similar to the Horizon's Black Hole. and spread the territory within this territory We will be able to see the enemy running. This territory will last up to 30 seconds, enough to allow us to use the combo with Focus of Attention fully 2 times, and no matter what. Enemies that crouch And floating in the air will not be revealed even in the territory. and if the enemy encounters an energy launcher Can be fired and destroyed with 125 HP.
Techniques for making the most of this skill is placed in a corner because even if it was shot and destroyed But it's harder to notice than Horizon's skills enough if the enemy is busy running for a micro-drone launcher. It may be an open space for us to shoot back attacks comfortably. and when he saw the enemy running or has been identified on the map It will be up to you and the team to communicate what to do next. Which is normal for Recon characters to bring the information that has been obtained. Consult with the team whether to attack or escape. and which way to enter what attack Overall, the effectiveness of the ultimate skill considered brutal but not as outstanding as skill.
Although it's so brutal that it's about to get nerfed in the next patch, Seer is a very useful and distinctive character for a Recon character, which we'll have to wait and see again. After the patch nerfs its ability down. Will there still be this kind of brutality?